Making every dollar count is the most crucial task for every company owner. You scrutinize every purchase, consider the merits of potential investments, and search for cost-cutting opportunities.
You couldn't get through the day without your workplace copier. Multiple valuable tasks, such as copying, printing, scanning, and faxing, may be accomplished with a single machine using a multifunction copier. Costing a significant portion of any business's operating budget, the question of whether to purchase or lease a copier or printer is typical.
Let's compare and contrast the advantages of buying versus renting to see which option is best.
Benefits Of Buying A Copier
1. Extend the copier's helpful life after the purchase
When you buy a copier, you may keep using it as long as it serves your demands. Companies often keep their photocopiers for eight years or more after purchase. However, most copier leases last for 36 or 60 months. Most of the time, businesses will continue their lease from one term to the next. So they must buy a new copier every three to five years and pay the total price plus interest.
2. No recurring costs
One perk of buying a copier is avoiding the hassle of another recurring bill and payment. You will get a monthly invoice from the leasing company for your rented copier.
3. Flexibility to make changes
Numerous authorities agree that leasing simplifies upgrading to a more advanced model of the same or different equipment. According to the same specialists, you can't make that choice while buying a photocopier. Owning a copier allows you to trade in your current machine for credit toward purchasing a new one. However, an early buyout or cancellation of a lease always comes with a hefty penalty. When upgrading to new or different equipment before the end of the lease period, you must also pay the buyout.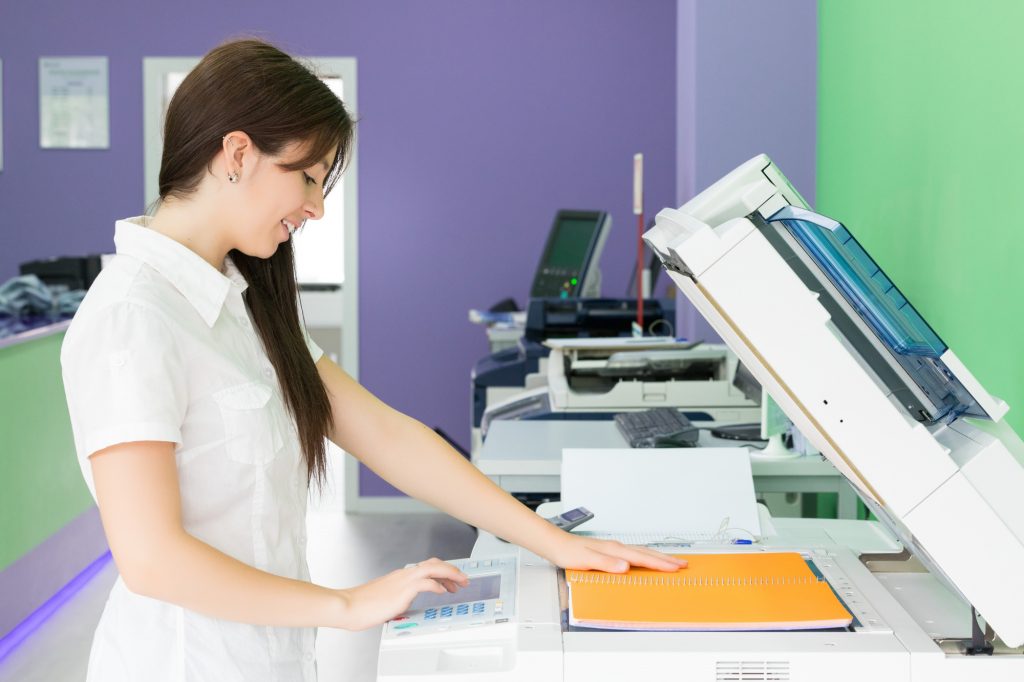 Advantage Of Leasing A Copier
1. No depreciation plan
Leasing a copier simplifies the administrative side of tax planning since you don't have to keep track of the depreciation expense over five years. A copy machine's depreciation is tax deductible. On the other hand, leasing a copier is often seen as a tax-deductible business cost.
2. Keeping up in the competition
Leasing may help your company afford cutting-edge equipment, such as a quick, feature-rich Multifunction Printer (MFP) with various peripherals designed to boost productivity. Consequently, you may compete more effectively with more prominent firms without going bankrupt.
3. Copier servicing
You have the same flexibility in choosing a maintenance plan with either a purchase or a lease. Whether you buy or lease your copier, you can protect your investment with a comprehensive maintenance agreement that includes all repairs, replacements, and supplies. This factor should not factor into your selection between buying and leasing since service and maintenance options are the same in both cases.
Leasing vs. Buying Copier
In some instances, the distinction between purchasing and leasing may seem obvious. However, many buying departments find the choice challenging because of the need to investigate the pros and cons in depth.
When a business buys a copier for the workplace, it is, in effect, making a one-time, upfront acquisition. They will be in charge of repairs and eventual disposal of the device. Depending on the model, it may be possible to bargain for an extended service plan at purchase. In most cases, however, this will be for minor fixes covered by the manufacturer's warranty rather than the thorough upkeep that would extend the product's useful life.
When a machine is leased, it remains the property of the leasing company. When attempting to negotiate the terms of a contract, this might provide some challenges. However, this is frequently favoured for businesses that desire consistent monthly expenditures, continuous improvements to keep up with their expanding operations, and trustworthy maintenance.
When a copier lease expires, you do not automatically become the machine's owner. Lessee becomes the owner of the item once all payments have been completed, regardless of the length of the lease.
Final Thoughts
Depending on the business's needs, buying or leasing a copier could be a great option. Please click here for further information about copiers for sale and lease.
If you plan to get copiers for your office in Oklahoma, you can opt to buy copiers or lease copiers in Oklahoma. We can give you the option to get the copier that you want.  You can contact our local copier leasing services department in your location.
If your Location is around Overland Park, you may call us at (405) 237-4700, our personnel for copier leasing in Oklahoma will assist you. If you are also looking for copier repair services in Oklahoma, you may contact our copier repair personnel at the same number.